About Us
Current Location: HOME >> About Us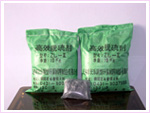 Changchun Helong Environment Friendly Material Manufacturing Co., Ltd. is a science and technology economic entity established on the base on Chuangchun Tianyuan Institute for Applied Technology, and is the only ZL desulfurization catalyst manufacturer in China designated and authorized by Chuangchun Tianyuan Institute for Applied Technology. ZL desulfurization catalyst, which has eliminated the disadvantage of PDS that cannot be used independently, is the new-generation product of PDS researched and produced by our technicians basing on predecessors' experience and the inventor of PDS. Since 1990s, ZL desulfurization catalyst has been used independently in desulferizing and cyanogen removing systems such as nitrogen fertilizer, town gas and coke-oven gas in China, and the effect is quite good. It has helped our clients get more economic benefit.

At the end of 1996, ZL desulfurization catalyst passed accpetance check of new product held by Jilin Economic and trade Committee, and at the same time was appraised as Province-level New Product. In October of 1997, it was awarded the honor of State-level New Product. Our company has high-qualified technical personnel including professors and associate professors, with annual output of 50tons of ZL desulfurization catalyst, annual production value of approximately RMB 10 million, and annual profit payments and tax turnover of about RMB 3 million. Now we are providing ZL desulfurization catalyst to scores of large and medium-scale enterprises including Changchun E.Suburbs Gas Plant, Coking and Gas Plant of Tangshan Iron and Steel Company, Coking Plant of Xiangtan Iron and Steel Limited Company, Coking Plant of Lianyuan Iron and Steel Company, Coking Plant of Handan Iron and Steel Company, General Chemical Works of Anshan Iron and Steel Complex, Tianjin Second Gas Plant, Tangshan Jianlong Jianzhou lron and Steel Group Co., Ltd., Coking Plant of Hubei Xin Yegang Group Co., Ltd. and Hefei Sifang Chemical Group, etc, and application effect of ZL desulfurization catalyst is quite good in all these enterprises.
Our company is located in the beautiful Northern Spring City - Changchun. We have provided to many enterprises for many years, and directed them to operate to ensure their product quality meeting technical requirements of desulfurization. We are looking forward to your visit, investigation and instruction. We will make you satisfied with best products and service.